Frequently asked questions
What are the areas of a check that can be personalized?
There are several areas of a check that can be personalized. Areas include routing & transit number, account number, starting check number, custom/stock logo or monogram and the over signature line (OSL). Please see image below for details.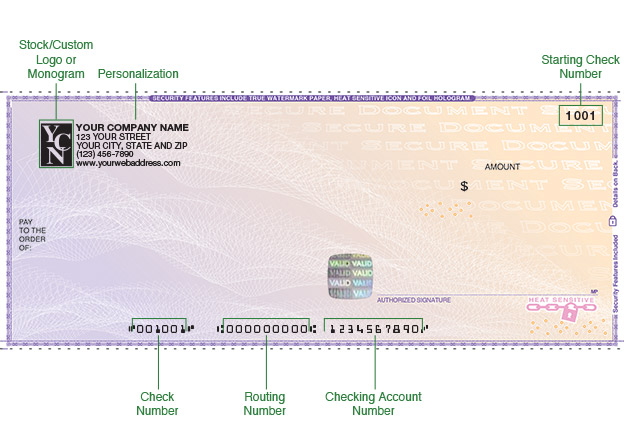 What payment options do I have?
We accept Visa, MasterCard, Discover, and American Express, utilizing the VeriSign service, one of the most recognized symbols of trust on the Web. Your credit card will be authorized at the order confirmation stage of the online ordering process. When items from your order have shipped, your credit card will be charged.
Can I order by phone?
If you need any help with your order, or if you want to place your order by phone, call us at 1-844-857-2898. We'll be glad to help.
Returns
If you have received your order and it is damaged or defective in any way, please let us know and we will replace it immediately. If you have received your order and feel that the personalization is not accurate to your online preview, we will be glad to re-print your order at no additional charge. We believe in our products and back them up with our 100% Satisfaction Guarantee. If you are not completely satisfied with your order, call us for a full refund at 1-844-857-2898.
Cancellation policy
All online orders are submitted to production immediately to provide the timeliest service possible. Therefore, orders cannot be canceled after they are submitted. Please call 1-844-857-2898 and speak with a representative for further assistance.
What is the difference between a Laser/Inkjet Printer and a Continuous printer?
If your printer prints one sheet at a time, it is most likely a Laser or Inkjet printer. If your printer has pin feeds or tractor feeds, use the Continuous option.
Who do I call to check on status?
We typically ship your order within 5 – 7 business days upon receipt of all order information, so you will not normally need to check on status. If you provide us your email, we will send you email shipment notification. However, you are welcome to call us for any reason at 1-844-857-2898.
Shipping
Standard shipping and handling: two-to-three-week standard delivery
All standard orders shipped Ground delivery.
If your order contains mutiple items, items may ship together in one package; if shipped separately, items may arrive days apart.
Customers in Hawaii, Puerto Rico, and Alaska, as well as international customers must call our customer care team for shipping charges.
| | | | |
| --- | --- | --- | --- |
| Level | 1 | 2 | 3 |
| Shipping methods | Ground | Second Day | Next Day PM |
| $0.00 – 15.00 | $4.30 | $15.50 | $28.50 |
| $15.01 – 20.00 | $7.80 | $16.70 | $28.50 |
| $20.01 – 50.00 | $11.70 | $23.40 | $35.20 |
| $50.01 – 100.00 | $16.60 | $30.70 | $46.30 |
| $100.01 – 150.00 | $22.40 | $46.80 | $70.20 |
| $150.01 – 200.00 | $28.20 | $58.00 | $91.70 |
| $200.01 – 300.00 | $38.70 | $88.00 | $138.30 |
| $300.01 – 400.00 | $48.00 | $102.30 | $154.20 |
| $400.01 – 600.00 | $69.70 | $147.40 | $237.50 |
| $600.01 – 800.00 | $73.50 | $154.20 | $263.50 |
| $800.01 and up | Free | $198.50 | $278.60 |
Live Chat
Live Chat is available using the WE'RE HERE TO HELP Button to the right, during the following hours:
Monday – Friday: 7:00 a.m. – 7:00 p.m. (CST)
Saturday – Sunday: Closed
Address
MIP Checks and Forms
PO Box 351280
New Braunfels, TX 78135
Phone/Fax
Phone: 1-844-857-2898
Fax: 1-800-362-5724
Customer Service Hours
Monday – Friday: 7:00 a.m. – 7:00 p.m. (CST)
Saturday – Sunday: Closed